A study conducted at the University of Connecticut by a research team at the Neag School of Education shows a large and significant achievement gap, based on income inequality, for an important new type of reading — the ability to read online to learn information. The study, part of a research grant funded by the U.S. Department of Education's Institute of Education Sciences, will appear in the January, 2015 issue of Reading Research Quarterly, the flagship journal for reading research published by the International Reading Association.
Professor Donald Leu, Neag Endowed Chair in Literacy and Technology and lead author, said, "We know about the traditional reading achievement gap for offline reading that is based on income inequality. It is large and getting larger. The results of this study show an achievement gap for online reading that is separate and independent from this offline gap. This type of reading is not adequately recognized by most states. For example, the words 'online' or 'Internet' never appear in the Common Core State Reading Standards. Moreover, this type of reading is not included in the National Assessment of Educational Progress, reported as 'the gold standard of tests.'"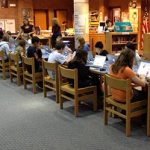 Leu, D.J., Forzani, E., Rhoads, C., Maykel, C., Kennedy, C., & Timbrell, N. (2015). The new literacies of online research and comprehension: Rethinking the reading achievement gap. Reading Research Quarterly, 50(1).
---