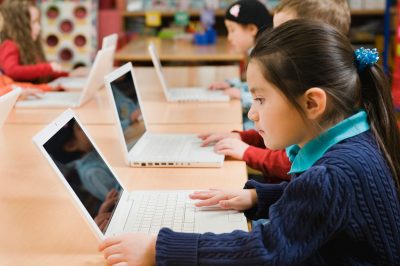 The bilingual/multicultural education program at the UConn's Neag School encompasses professional development programs and activities that will improve classroom instruction for English language learners and assist educational personnel working with such children (including bilingual, ESL, and mainstream teachers) to meet high educational standards. This program leads to state certification in TESOL (Teaching English to Speakers of Other Languages) and/or bilingual education.
The Neag School offers the following courses:
EDCI 5700 (304): Foundations of Bilingual Education — Study of political, social, and legal aspects of bilingual education.
EDCI 5705 (307): Curricular Issues in Bilingual Education — Current approaches, methods, and techniques with respect to curricular issues in contemporary bilingual education programs.
EDCI 5710 (309): Special Topics in Bilingual Education — In-depth study of current topics related to bilingual education programs.
EDCI 5715 (312): Bilingualism and Second Language Acquisition — Developmental sequences and theories of first and second language acquisition.
EDCI 5720 (313): Bilingual Education and Biliteracy — Current methods, strategies, and techniques of reading in the mother tongue (LI); transfer of reading skills into English (L2); and evaluation and adaptation of LI and L2 reading materials.
EDCI 5890 (315): Educational Lin­guistic — Overview of the study of language and linguistics, and especially applied linguistics, with emphasis on their implications for the classroom teacher.
EDCI 5750 (317): Language Diver­sity and Literacy — Overview of issues and debates concerning the theory and practice of literacy development for non­native English speaking students in the United States.
EDCI 5605 (319): Second Language Acquisition In the Elementary School — An introduction to current research related to second language ac­quisition in elementary school-age chil­dren, with emphasis on implications for foreign language instruction.
EDCI 5895 (322): Language ldeology and Education — Interrelationship among language, ideology, education, and society, including examination of issues of social class, ethnicity, gender, social con­text, power, and politics. Also covered are literacy, language prescriptivism and standardization, language policy, and dis­course in critical perspective.
EDCI 5875 (357): Multicultural Edu­cation — Interrelationships between education and various sociocultural as­pects of cultural diversity and cultural pluralism, including language acquisition and diversity.
EDCI 5740 (360): Latinos and U.S. Education — Conditions of schooling Latinos in the U.S. educational system via a historical and economic context, in­cluding principles of second language acquisition. Policy issues and theoretical discussions of underachievement. Rela­tionship between dominant and subordi­nate cultures and their effect on class­room discourses.
EDCI 5742 (397): Sheltered English Instruction for ELL — Current ap­proaches and techniques with respect to academic language development in shel­tered environments. This course at­tempts to disclose the most important issues surrounding content area teaching for English Language Learners (Ells). Special attention is placed on the teaching of mathematics, science, and literacy in English for second language learners, including second language acqui­sition and development within the content areas.
EDCI 5755 (404): Teaching English as a Second Language — An examina­tion of current research on the acquisi­tion and learning of English as a second language (ESL) in school settings. Critical Issues in the application of research on ESL to the bilingual classroom are dis­cussed.
EDCI 5760 (409): Research in Bilin­gual Education — Analysis of research in bilingual education, methods of re­search, and design and implementation of research studies in bilingual education. Prerequisite: EDCI 307
EDCI 5765 (413): Assessment of Bilingualism — Principles of assess­ment of bilingual learners, including lan­guage proficiency and dominance, (bi) literacy development, and academic con­tent knowledge. Current assessment approaches for bilingual learners in differ­ent contexts (e.g., bilingual, ESL classes,) and for various purposes (e.g., screening, placement, evaluation).
EDCI 5770 (414): Advanced Issues in Bilingual Education — Critical contemporary issues and topics related to bilingual education programs in the United States. Prerequisite: EDCI 307
EDCI 5775 (421): Advanced Issues In Second Language Acquisition —­ Advanced clinically-based seminar focus­ing on research issues and practice in second language acquisition.
EDCI 5780 (422): Social and Politi­cal Context Bilingual Education —­ Advanced seminar addressing the social and political context of contemporary bilingual education programs from a critical perspective.
EDCI 5845 (430): Seminar in Inter­national Education — Concentrated study of culture and education in a major geographical region such as Africa, Asia, or Latin America; or cross-cultural stud­ies of educational issues.
EDCI 6855 ( 431): Sociocultural Theories for Educators — The study of selected sociocultural theories and their application in education.
EDCI 6860 (435): Research in Multi­cultural Education— Advanced study in the processes and findings of research in multicultural education.
EDCI 5885: Critical Pedagogies
GERM 5305/CLCS 5306: Development of Intercultural Competence in Education
Please note the change in course num­bering from a 3-digit catalog number to a 4-digit catalog number. This list uses the new course numbers, with the old num­ber in parentheses.